Irwin Raj Arulraj
When I was growing up, semangat kejiranan – 'community spirit' was something not only taught in school but consciously practiced amongst the older folk. Take any neighbourhood then and you would find a lot of community interaction from taking turns to patrol the neighbourhood in the middle of the night to helping each other cook for celebrations. However, moving into the smartphone era, community togetherness is now more apparent only through social media applications. We often miss out on socialising, communal interaction and togetherness because of our urban landscape.
The opportunity to bring back this community spirit of yesteryear is what inspired me when I was asked to strategise a community development plan for The Exchange TRX. Kuala Lumpur is a melting pot of diverse cultures, food, and history. At the heart of KL, The Exchange TRX aspires to be a leader in a community-engaged urban regeneration project.
The Exchange TRX applies a community-inclusive approach in building social assets and connecting commonalities across local neighbourhoods. By creating a culture of care, acknowledgment and social support, this development cuts across different segments of the community, encouraging people to interact and socialise.
Many of the initiative's ideas came not from a brainstorming session in a meeting room but through casually walking and chatting with the locals around the neighbourhood. Our conversations with the locals sparked amazing ideas that we hope will become a reality in awakening latent community spirit.
Our first initiative started with one of our first community partners – Kechara Soup Kitchen, where our team volunteered to deliver hot meals and care packages to the homeless around the Pudu, Chow Kit, and Bukit Bintang areas on a weekend. After that experience, many of us were inspired to do more for the community and to be more involved in volunteering activities.
Leveraging on these micro gestures and volunteering in the community, we developed bigger initiatives to activate and positively impact the local community with the upcoming urban renewal project at TRX. Projek Komuniti Kita – 'Our Community Project' is a community engagement initiative developed with several other community partners.
It is also my pet project here in Kuala Lumpur.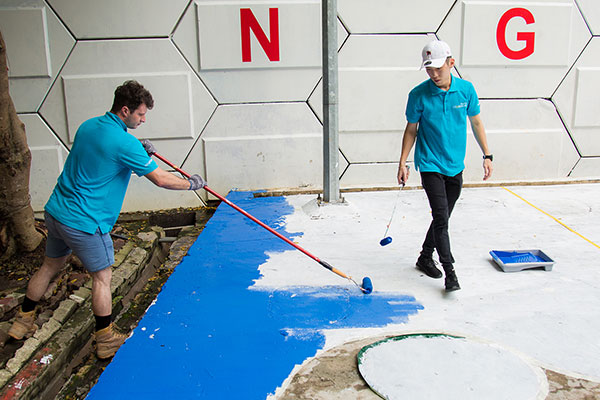 Volunteers hard at work revamping one of the local neighbourhoods.


It began as a small two-week community initiative and before long, Projek Komuniti Kita grew into a 3-month long project involving five local neighbourhoods in 2019. Each weekend, volunteers and community partners spent time with children from these neighbourhoods, educating them in arts & culture, inspiring women to be more empowered and giving underused spaces in the neighbourhoods a new lease of life.

All weekends for those three months were spent in these neighbourhoods, walking around and mingling with residents and children alike. That experience created a special bond and trust with the local community that has lived on till today, so much so that most of the children call me 'uncle baju biru' ('uncle in the blue shirt', referring to the Lendlease blue volunteer polo I wore) when they see me.

Urban regeneration projects are complex and often take years to complete, as different parts of the city pose unique opportunities. The historical sentiment, cultural norms, community interactions and lifestyle will impact the future use of these community realms. While the construction of new buildings plays a huge role in shaping the skyline, urban community development helps to activate community spirit and togetherness.

With the encouraging and positive feedback from the community through Projek Komuniti Kita, we at Lendlease hope to deliver more impactful community programmes with the aim of creating a new standard in the public realm that will be a legacy for KL-ites and the international community to enjoy for years to come.