Redza Ridzuan, Social Sustainability Manager
On a bright, sunny Saturday, a crowd of children gathered at one of the community futsal courts at Seri Selangor, one of the city's public housing developments (perumahan awam). Excited chatter reverberated around the futsal court as the children waited in anticipation of a fun-filled day.
Equally enthusiastic were the Lendlease employees who volunteered to assist with Projek Komuniti Kita (PKK), a community development initiative aimed at enhancing the resiliency of children in public housing developments through arts, culture and sports.
The initiative has been a flagship programme for Lendlease and The Exchange TRX since 2019. Apart from Seri Selangor, the other two communities that the programme is benefitting are from Batu Muda and Kerinchi. Children living within these communities were exposed to Futsal clinics, arts and crafts workshops as well as theatre classes.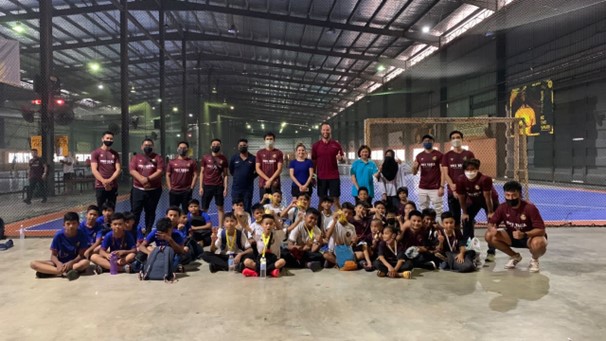 "We realised that in today's changing climate, there has been a lot of emphasis on the need to build a sustainable city, one which is not only focused on the built environment, but one that places equal attention on the communities that dwell and thrive in these cities. Projek Komuniti Kita is one such effort by The Exchange TRX and Lendlease to enhance the resilience of our neighbours. After all, children are the future, and to ensure we contribute to a future that is resilient, it begins with building strong communities", said Yong Su-Lin, Managing Director of Lendlease Malaysia.
According to Lendlease Malaysia's Social Sustainability Manager, Redza Ridzuan, the community building initiatives were slightly hampered by COVID-19 as communities and corporates were still cautious about group activities.
"As safety is at the core of what we do, we made sure that strict restrictions were observed in 2022 to ensure that our beneficiaries and volunteers were protected. I'm sure that both children and volunteers found it very refreshing to be doing something meaningful, fun and outdoors!", added Redza.
In 2021, Lendlease focused on working with strategic partners such as NGOs and social enterprises to carve out activities that would raise the children's interest in arts (theatre to be specific) and sports.
"Children need to be outdoors, and with the pandemic hitting us so hard for two years, we felt that it made sense to bring the children outdoors to enjoy some fun while learning some soft skills and to enhance their appreciation for theatre. It also gave them some much needed exercise and sharpened their coordination as well as competitive skills", added Redza.
One of the programs that the children really enjoyed was a program called KitaReka which is an activity organised by Humankind Malaysia that focuses on art and wellness activities. The main aim of KitaReka is to use art creatively to help the children express their ideas, thoughts, and feelings.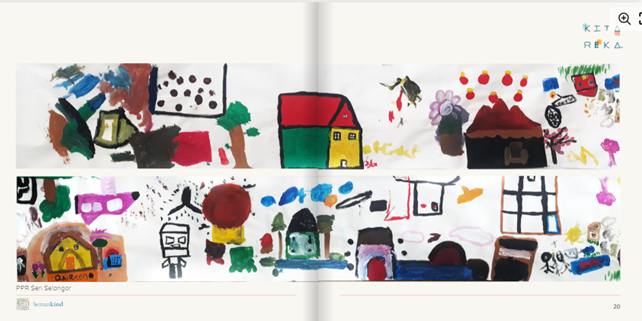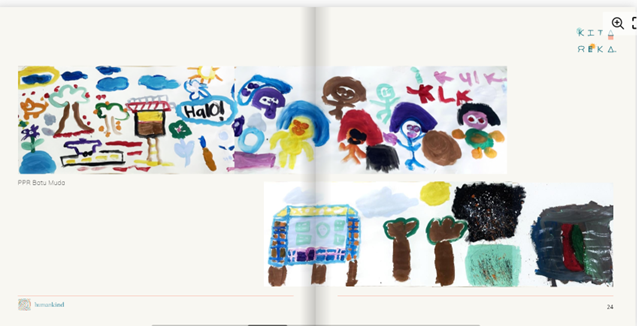 Check out all the artworks by the children throughout the KitaReka program here: KitaReka x Projek Komuniti Kita | PDF to Flipbook (heyzine.com)
In total, six community programs were implemented that saw the participation of 249 beneficiaries from all 3 PPR communities. In addition to the beneficiaries, Lendlease employees also participated as volunteers in the delivery of the interventions.
At The Exchange TRX, creating social impact through strategic partnerships with local communities, NGOs and social enterprises is an important aspect of building community resilience. The essence of a smart, sustainable and resilient city is its people, and at The Exchange TRX, we strive to ensure we embed inclusivity in our business.
If you are a social enterprise working closely with public housing development communities, please contact us at foundation.asia@lendlease.com for potential collaborations.