Yasmin Rasyid, Sustainability Director, Lendlease Malaysia
In order to continue thriving as a society, it is critical that cities are resilient and adaptable to the changing climate. Let me explain – '
climate resiliency
' means being able to bounce back to shape or recover from an adverse event, whereas '
climate adaptability
' refers to the crucial actions taken in response to the impacts of climate change. Cities in the future need to be resilient and adaptive, given that climatic changes, if not properly addressed today, will be more intense and harmful to the planet tomorrow.
In order to put into perspective the importance of resiliency and adaptability of city and community, here are some facts:
• By 2050, 70% of the global population will live in cities.
• 80% of global GDP is generated in cities.
• Urbanisation is largely a modern phenomenon and a trend unique to the past couple centuries.
One of Malaysia's boldest urban regeneration projects, the 70-acre Tun Razak Exchange (TRX), will be Malaysia's first international financial district which combines sustainability, attractive public realm and great connectivity to create a world-class international urban ecosystem at the heart of Kuala Lumpur.
A city defining development, TRX aspires to create a vibrant, lively and inclusive precinct that has been designed with a long-term vision.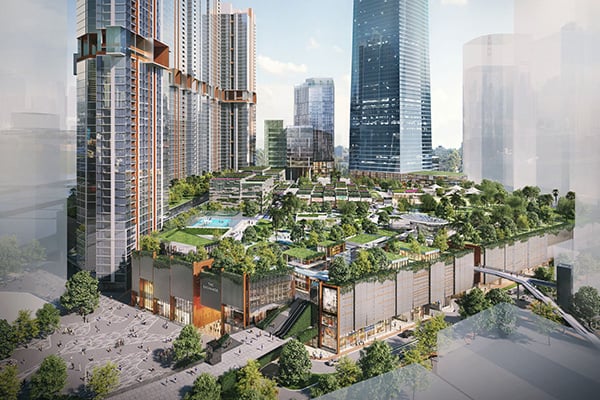 Cities of the future need to have the characteristics and functions that will enable them to stand against the challenges of climate change, and part of that entails being a smart city. Being a smart city is not just about ensuring that the infrastructure is built to last – a smart city can only be smart if the communities in it understand their roles and know the right actions to employ to stay resilient and adaptable.
In support of this vision, The Exchange TRX recently completed a
Climate Change Adaptation and Resilience (CCAR) study
of our development's design and future operations.
The Exchange TRX's Commitment to Climate Action
The
TRX Exchange Sustainability Plan
was developed based on
three sustainability framework imperatives
, comprising sustainable economic growth, vibrant and resilient communities and cities, and healthy planet and people.
Embedded in the Plan is the importance of undertaking a climate risk analysis of The Exchange TRX, which involved assessing the development's design and its operational planning around key climate risks. From the findings of the CCAR study, we were able to design key strategies and features of The Exchange TRX that will address reduction of the development's vulnerability to climate change impacts and increase its adaptive capacity and resilience of its community.
How was the CCAR Study Conducted?
The study was conducted following ISO methods and standards (ISO 31000:2018 Risk Management – Guidelines) and our own enterprise Risk Management Framework. The second step of the study was identifying the areas of risks which would impact the development, done through consultation with various teams and consultants. The third step was to define the timeframes in which we would assess the climate change risk. We looked into the future and chose to assess our development's resiliency to climate change based on two timeframes: 2070 and 2100.
The next steps of the study required us to understand and analyse what the
likelihood
of the risks occurring (based on geography and climate change models) would be, then to evaluate the
impact
of the risk event, and then finally to assess the level of risk priority.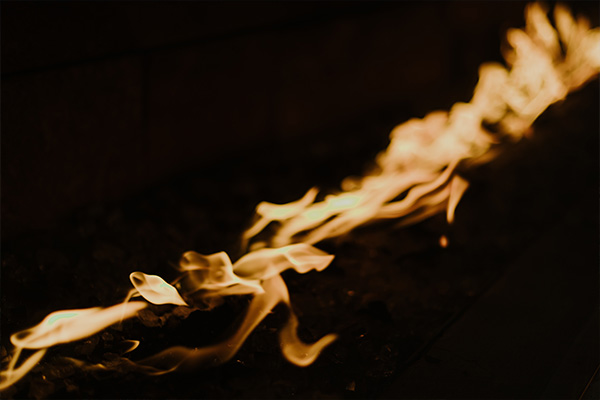 The Findings of The Exchange TRX Adaptation Plan

The CCAR study identified 36 risk scenarios across four impact areas (heatwave, urban flood, wildfire and water scarcity) as having the highest potential to cause direct and indirect environmental, social and economic impacts.

The future adaptation and resilience of The Exchange TRX consists of two main elements – the built environment and its community. It is the combination of these two elements and how they interact that will create good levels of resilience in the development.

Making the Precinct Adaptable and Resilient

The following sections highlight the key design features of The Exchange TRX that future-proof the precinct's buildings and infrastructure against the impacts of climate change and the initiatives that connect residents, workers and visitors to create a strong sense of community:

Features that mitigate heatwave risks:

o Awning structures on the buildings
o Trees to reduce urban heat island effect
o Outdoor furniture with low heat conductivity to improve comfort for public
o Water features providing localised air cooling in outdoor spaces
o Precinct walkways comprising high albedo (low reflective, low heat absorbing) pavements to reduce urban heat island effects
o Covered, protected and air-conditioned MRT pedestrian connection to The Exchange TRX to reduce heat stress on workers and visitors to and from the precinct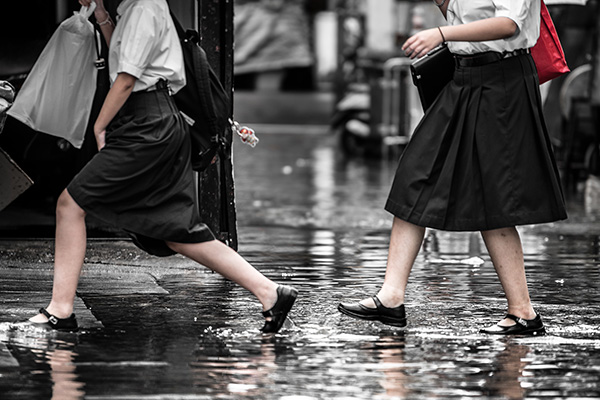 Features that mitigate urban flood risks:

• The public realm will be located on an elevated podium
• The stormwater system has been specifically designed to effectively attenuate and cater for extreme rainfall and urban flood events
• The 10-acre park comprises sprawling landscapes, permeable paving and water sensitive urban design strategies that have been adopted to maximise onsite retention of water from storm events, maximise infiltration and protect assets both onsite and downstream from potential localised flooding events due to increased rainfall intensity.
• The Exchange TRX has adopted necessary measures to protect against inundation under flood modelling during the lifetime of the development.

Managing Water Scarcity:

• The Exchange TRX is targeting to reduce potable water demand by 50%, through the selection of water efficiency measures , maximising onsite rainwater retention and water recycling systems (managed by Veolia Water Technologies) to recover over 80% of wastewater.
• Recycled water produced by the plant will be used for toilet flushing, landscape irrigation, and cooling tower make up.
Features that mitigate air quality risks:
• Building façades have been designed with well-sealed envelope to minimise air quality issues and improve passive energy performance of building.
• Commercial buildings will also be equipped with MERV14 filtration, capable of filtering 71% of harmful PM2.5 particles.
• Stringent low VOC material requirements of LEED and GBI ensure all internal spaces will provide a high degree of healthy indoor air quality.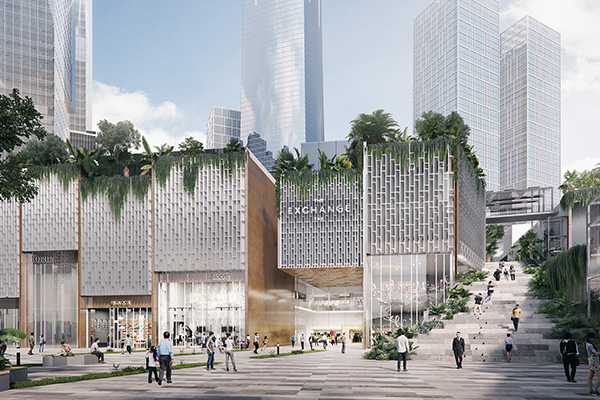 How does the Exchange TRX Build Community Resilience?
The most important outcome from this report is that it helps build more awareness on how developments need and should be built to be both a great place that responds and adapts to future changes in the environment. We hope that the findings of the report will give meaningful insights into some of the ways that the built environment can play a greater role in the climate resilience of our cities and communities. We know that there is a lot more to be done but every action adds up and we need to start taking action to transition to a low carbon economy and climate changed world.
The Exchange TRX is a positive step towards a modern Kuala Lumpur that continues to thrive and demonstrates its resiliency and adaptability. We encourage you to
read the report
and be part of a conversation we can all be catalysts for a more resilient and sustainable Malaysia.
Sources: Our World in Data, World Health Organization, The World Bank